Modernism in its most general sense is a term that applies to all modern architecture of the twentieth century. A number of 'modern' styles emerged in the 1920s and 1930s in Europe, and spread to Britain. The term Art Deco is widely used as a 'catch-all' for all Modernist buildings, but it is important to make a distinction. Onslow Court is classified as Art Deco.
You really get a sense of the space when you stand on the flat roof of the building. This was and still is ambitious architecture. This different boomerang shaped building with its balconies and huge windows must have looked astonishing compared to the Edwardian and Victorian brick houses of the day.
The general feeling amongst the trail blazing architects of the 20's and 30's was that new homes should be uncluttered, functional and light open spaces and made of modern materials. They thought they were creating utopian settings where residents would be able to lead far more enlightened lives.
Flats like Onslow Court attracted the middle-class intelligentsia eager to try out modern living and all that entailed. It is true the flats at Onslow Court do have certain grandeur; even the smaller flats have fabulous proportions.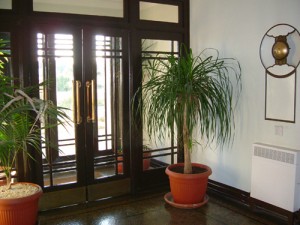 The ground floor main cornered flat has a column situated in the sitting room which is clearly a structural column; this is a feature that occurs in modern deco buildings and we see it again in the hallways of Onslow Court. When a structural support was required prior to this movement the normal solution was to place this in a wall; the new open spaces craved by the Moderne architects made columns like this into features in order to open up the spaces.
This sort of architecture was actually a very early equivalent of buying a lifestyle off the shelf. As with many other moderne and art deco apartments what they said to people was move in here, have a minimalist life and bring as little with you as possible, this was a whole new movement that revolutionised the modern life and took away all that Edwardian and Victorian clutter. Clearly, it was not a time of owning many clothes, the cedar-lined wardrobes found in each bedroom has as much space as a single wardrobe of today, but with ample storage space for hat boxes. Onslow Court was originally marketed as rental apartments that were fully furnished. Hot water and heating was free and electric was charged at 3/4d a unit, recharged by the Landlord.
Onslow Court flats and others like it broke down the notion of closed houses. The huge panoramic windows that run the length of the rooms create a transparency to the entire living space. Some flats with sunrooms allow an almost 180 degree panorama across the English Channel; this was seen at the time to be the next best thing to being right outside. The overall effect is very elegant, this was a time when space was celebrated without distracting ornamentation and it was all about proportion and elegance.