2013 – 2018 Front Window & Balcony door replacement
When Onslow Court was built in the 1930's, Crittall steel windows were installed. These would have been the latest modern innovation and a stark contrast to the wooden sash windows of Victorian times.
Over a period of time, these windows would have rusted and were therefore replaced in the 1950's with galvanised steel Crittall ones. We know this because when Crittall came back to Onslow Court in 2012 to discuss replacements, they were able to tell us that the windows in place were hot dipped galvanised and this process did not exist until the 1950's. Clearly the galvanising was a great improvement because these windows lasted much longer than the original ones and we may have had as many as 50 years use out of them.
During the intervening years the inevitable deterioration caused rust and this was leaving ugly brown marks on the exterior walls of the flats. Moreover, glass panes were cracking as the structure of the window was compromised and many windows generally became too far gone to restore.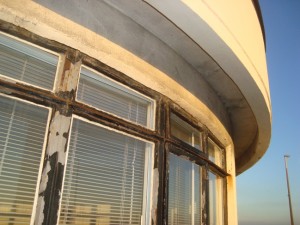 A five year rolling program is in now place to replace windows and balcony doors, the five year program finishes in March 2018.  The Heritage Window Company presented the best visual match to the original Crittall steel frames with greater thermal values than the Crittall. A close match was essential in order to prevent a patchwork visual effect from incremental replacement to safeguard the appearance of this seafront, local interest building in accordance with Core Strategy Policy 16 and Worthing Local Plan (WBC 2003) (saved policy CT3. A lot of effort and time was spent on this project by the planning department and it is important to Worthing town that it retains its architectural integrity
Deviations from the approved planning decision require a further application to Worthing Borough Council Planning Department for consideration.
The current 'live'  Planning Application was submitted and approved in 2013. The result is a cohesive replacement program with an almost exact replica of the original  in a double-glazed aluminium modern material. During the Phase I in 2013 approximately 50% of the front-facing windows were replaced restoration work. A further 20% have gone on to replace their windows with the approved new frames to date.
Below are the designs and specifications of the windows supplied by Heritage which have been approved by the Planning Department of Worthing Borough Council:
Click the links to view. These documents can also be downloaded for reference.