Onslow Court History
The local architect A. T. W. Goldsmith designed Onslow Court. There was an abortive first design for Onslow Court in 1934 by Goldsmith and we have tracked down those plans. The later plans have unfortunately disappeared from the records completely.
The work of A T W Goldsmith
It is has been difficult to find information about our architect, he was a local man and responsible for several important Art Deco buildings in Worthing. Following the success of Onslow Court, a Streamlined Moderne Art Deco design, the partnership of Goldsmith and Pennells collaborated to remodel and extend the Beach Hotel in 1936 (it is now demolished) and looking at archive photographs we can see many similarities, for example the original balcony privacy screens were identical to Onslow Court.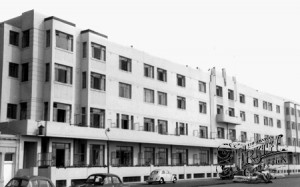 "Over 80,000 return tickets from Victoria station were booked in 1938, and more than 53,000 day trippers visited Worthing on August Bank Holiday in 1935"
Goldsmith also designed the Connaught Theatre facade and foyer 1935, originally this was tiled, but these have since been removed in various renovations. The Connaught Theatre is a Streamline Moderne-style theatre in the centre of Worthing. Built originally as the Picturedrome cinema in 1914, the venue was extended in 1935 and became the new home of the Connaught Theatre.
After the end of World War II the Dome Cinema, originally built in 1911 and one of the oldest working cinemas in England, went into a steady decline due to heavy competition from other picture houses. By 1955 the Dome was badly out of date and required a refit. The new owners hired architects Goldsmith and Pennells to install a new cinemascope screen.
Before Onslow Court
Onslow Court was built on the site of a very large house. "Onslow Vineries" and its extensive vinery stretched north quite a distance. The wall on our eastern flank is the original wall to the vinery and if you go down Seamill Park Avenue and you can follow the wall for a very long way.
During WWII
Canadian soldiers were billeted in Worthing during WWII and we think that they were posted at Onslow Court. It is also reported that there was an anti-aircraft gun (or guns) on the roof, but we have been unable to find any documentation proving this. It would be really good to know if this was true, even in part, but records of this type were not kept at the time and after the war it was forgotten. The letter behind the radiator was a great find and went some way to prove that there were Canadian soldiers billeted at Onslow Court during the war.
Worthing Local Interest Study
In late 2002, Worthing Borough Council Executive Member for Planning and Economic Development, Councillor Chris Sargent, appointed Saville Jones Architects to undertake this study of Worthing. The purpose was to record buildings of interest within the Borough, excluding those that were statutorily 'listed', so that people interested in the town might be encouraged to appreciate some of the buildings of note and interest.
The objective was not to create a list of buildings to be preserved, but a catalogue of structures for public record. The study may lend itself to a variety of uses, perhaps including the basis for architectural walks and tours of the town.
The research shows what a rich architectural heritage Worthing has, particularly that of the Art Deco period – a period of art and architecture that is undergoing a resurgence of interest.
Of Onslow Court the study says:
"This building is a good example of International style architecture, comprising a four-storey apartment block that sweeps around this prominent corner site. The building is flat roofed with an architectural composition of alternating solid render panels with steel framed glazing. Decorative relief features within the render have been subtly detailed within the elevation. The large corner windows project on the first and second floors to take advantage of the sea views. The original lettering has been retained and the facades have been carefully maintained."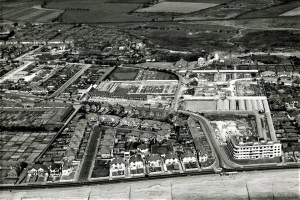 Above Onslow Court in 1957
Main research by Len Musgrove Flat 19.