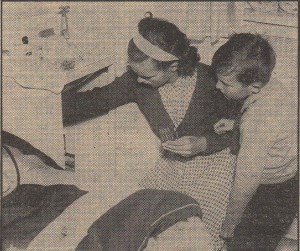 We all know from living at Onslow Court about our strange water distribution and stopcocks, but none was more strange that this story from the local paper in 1949.
Nine-year-old John Millkin, of 29 Onslow Court, Worthing slept for several months within a few feet of a quantity of live, 303 ammunition without knowing it.
This week it was discovered by accident and removed by the police – all 15 rounds of it.
It came to light because of the faulty bathroom tap. It was necessary to switch off another tap in the medicine cupboard in Johns bedroom and while Mrs. P.D. Millikin, Johns mother and a porter at the flats were examining the inside of the cupboard, they saw some of the ammunition wedged in a partition.
Five rounds were extracted and John and his sister (Jill) later found another ten. Onslow Court was occupied by the military during the war.
Paper cutting provided by Zoe Bailey Flat 12a.